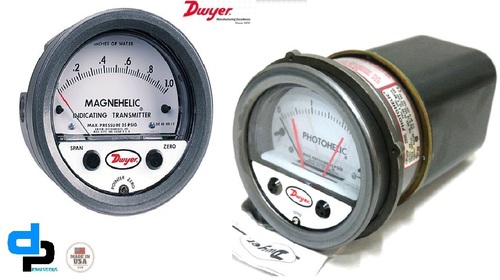 Dwyer 3000MR-00 Photohelic Differential Pressure Switch/Gauge
Product Code : Dwyer
Product Specifications
Measure Pressure Of

:

Gas, Oil, Steam
Product Description
Dwyer 3000MR-00 Photohelic Differential Pressure Switch/Gauge
Pressure Switch/Gage, Range 0-0.25" w.c., .005 minor divisions.
Description
Series 3000MR Photohelic® Switch/Gage, Additional Range 0-0.25" w.c., Relay Type - Electromechanical Relays
Includes
The Series 3000MR Photohelic® Switch/Gage combine the functions of a precise, highly repeatable differential pressure switch with a large easy-to-read analog pressure gage employing the durable, time-proven Magnehelic® gage design. Switch setting is easy to adjust with large external knobs on the gage face. Gage reading is unaffected by switch operation - will indicate accurately even if power is interrupted. Solid state design now results in greatly reduced size and weight. Units can be flush mounted in 4-13/16" hole or surface mounted with hardware supplied. 3000MR models employ versatile electromechanical relays with gold over silver contacts - ideal for dry circuits. For applications requiring high cycle rates, choose 3000MRS models with SPST (N.O.) solid state relays. Model provide both low and high limit control and include 18-inch cable assemblies for electrical connections.
Gage accuracy is ±2% of full scale and switch repeatability is ±1%. Switch deadband is one pointer width - less than 1% of full scale. Compatible with air and other non-combustible, non-corrosive gases, they can be used in systems with pressures to 25 psig.
Applications
Specification
Gage Specifications

Service

Air and non-combustible, compatible gases

Accuracy

±4% of FS at 70°F

Pressure Limits

-20" Hg to 25 psig

Temperature Limits

20 to 120°F

Process Connections

1/8 female NPT (duplicated side and back)

Size

4" dial face, 5" O.D. x 3-1/8"

Weight

1.8 lb

Switch Specifications

Switch Type

Each setpoint has 1 Form C relay (SPDT)

Relay Contacts

(resistive load) 1 Form C rated 1.0A @ 30 VDC, 0.3A @ 110 VDC or 0.5A @ 125 VAC. Gold over clad silver - suitable for dry circuits

Electrical Connections

18" cable assembly with 8 conductors

Power Requirements

24 VDC, regulated ±10%

Mounting Orientation

Diaphragm in vertical position

Set Point Adjustment

Adjustable knobs on face

Agency Approvals

CE