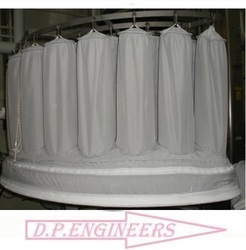 Fluid Bed Dryer Bags
Product Code : FBDB
Product Description
Fluid Bed Dryer Filter Bags
We offer a vast range of unmatched Fluid Bed Dryer FilterBags, which are easily available in different sizes as per the client's requirement and standard OEMs. These dryer bags exhibit various top-ranking properties in a cost-effective manner. We supply these bags to various industrial applications like pharmaceuticals, food processing, pharmaceuticals, and additives. We bring these ranges in bulk for our customers with economical rates.
Features:
Different bags different products are strongly recommended depending on required air permeability, retention micron & static charge.

Size : 5 Kg. (Lab Model), 30, 60, 120, 250, 500 Kg. As per standard OEMs and customers requirements.
Application:
Pharmaceuticals Industries

Chemical Industries

Agriculture Industries