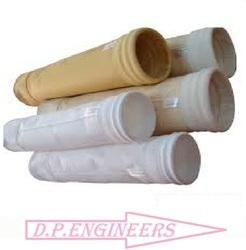 Product Description
Pulse Jet Filter bag

Manufacturer of Pulse Jet Filter bag. As far as The Pulse Jet Filter Bag Concern it consists of filter cylinders(bags) enclosed in a metal housing. In operation, dust-laden air enters through the center of Bag Filter. Either pressure or suction delivers the dirty air to the hopper. The fine practices travel upward and collect on the filter bags. The clean air passes through the bag and is vented to the atmosphere. A high pressure jet of compressed air directed through the bag at timed intervals removes the dust, which is deposited in the hopper and is easily collected for disposal or recovered for use.
Pulse Jet Filter bag : The dust-tight Pulse Jet Filter Bag has three section: a plenum at the top, a collector housing in the center and a hopper at the bottom. A plenum houses the blow tubes and supports for the solenoid valves. Clean air or gas is discharged through the exhaust outlet in the plenum. The housing contains the filter bag assemblies. Below the housing is the hopper which contains the inlet. A diffuser in the hopper, adjacent to the inlet absorbs the impact of the high velocity dust particles and properly distributes the incoming air. Pressure drop, which measures collector performance, is indicated by a ENVIRO TECH Gauge connected at one end to the filter bag section and to the clean air plenum at the other end. A Gujtex rotary airlock is recommended as a discharge valve to handle the collected dust.