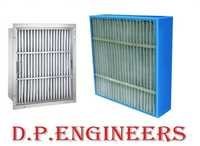 Super Fine Filters
Product Description
Super Fine Filters
Pre Fine or Super Fine Filters:

Frame : Aluminium, S.S,GI, box! Flange type

Adhesive: epoxy based adhesive for leak proof joint between filter media and casing.

Gasket: felt / natural rubber / pe foam gaskets as per customer choice for sealing the filters on mounting frames.

Temperature & humidity : recommended for operating temperature : up to 75°c. Operating humidity up to 100% rh, high temp. Against order.

Cleaning : washable by detergent / water solution or by air! Vacuum cleaner as per design.

Product range : filters are available with air handling capacity in the range of 170 cubic meter! Hr (100 cfm) to 3400 cubic meter / hr. (2000 cfm) : filter -grade from g3 to f9 (20 micron to 1 micron) plated HDPE mesh or special grade felt are used in pre-filters, which have filtration capacity for 10 micron and larger size particles. Non-woven filter fabric is used in fine or microwave filters which have filtration capacity for 5 micron and larger particles, in both washable as well as non-washable type.